NEMA 12-13 Mtrx CABINETS 6500 MXK
Single bay cabinet kit
The 6500 MXK cabinet kit is used to protect
equipment against oil, dust and light water
splashing. The protection rating is achieved by
the use of a high quality robotically poured-inplace
gasket. The standard cabinet kits consist
UL Listed / CSA Certified. CE (IEC60529)
NEMA/EEMAC 12-13 / IP55.
NEMA 12-13 Mtrx CABINETS 6500 MXK
Double bay cabinet kit
The 6500 MXK cabinet kit is used
to protect equipment against oil,
dust and light water splashing.
The protection rating is achieved
by the use of a high quality robotically
The standard cabinet kits consist
NEMA/EEMAC 12-13 CSA Certified / UL Listed
CE (IEC60529 / IP55)
NEMA 12-13 MTRX CABINETS 6500 MX
Single bay frame
The 6500 MX is the base frame of
a Mtrx cabinet. The fully welded
frame is made of powder coated
electro-galvanized steel and
steel cast corners. The tubeshaped
roller formed design features
an exclusive stiffening rib.
This special stiffening rib consists
of three layers of material
(4.5mm) all along the frame's
inner edges. The frame design is
fully symmetric. This facilitates
installation and accessory selection.
accommodate front inserted M8
clip nuts is present at 25 mm
increments. Self-tapping holes
for M5 screws are provided. Inner
panel sliding rails, eyebolts and
leveling feet are also provided.
The frame is RAL7011 sandtex
NEMA 12-13 MTRX CABINETS 6500 MXFT
Top cover fan tray (ultra low noise)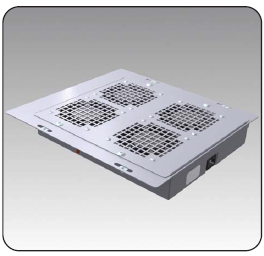 The 6500 MXFT ultra low noise
top cover fan tray is installed on
the top or bottom of a 600mm
wide or more Mtrx cabinet. In
order to install on top one must
order the cable entry top cover
(6500 MXTC) and replace two
gland plates by the tray. For an
installation on the bottom,
600mm wide cabinets only, simply
remove and replace two gland
plates. The tray is made of steel.
Installed and serviced from the
inside or outside of the enclosure.
This fan tray was developed for
applications where low noise and
chimney active cooling is
required. Fan tray kits are supplied
standard with: (i) all installation
hardware; (ii) four muffin fans
and wire harness; (iii) one IEC-
320-C14 connector. Standard finish
Note: 120V or 230V power cord
NEMA 12-13 MTRX CABINETS 6500 MXPLVF
Vented plinth
plinths are made to be installed
under Mtrx cabinets. They are
Vented plinths are ordered
using two catalog numbers.
(i) The 6500 MXPLVF specifies the
plinth's front and rear covers and
is relative to the cabinet's width.
(ii) The 6500 MXPLS specifies the
plinth's side covers and is relative
Mtrx plinths feature an exclusive
¼ turn plinth system which was
designed to facilitate the installation
and removal of plinth covers.
The plinth's front and rear covers
The plinths are finished with heat
fused polyester powder, electrostatically
applied on a phosphatized
Plinths are not included with
the 6500 MXK and 6500 MXU
cabinet kits and must always be